THANK YOU TO OUR GENEROUS SPONSORS
SAAA CHAPTERS 22 & 24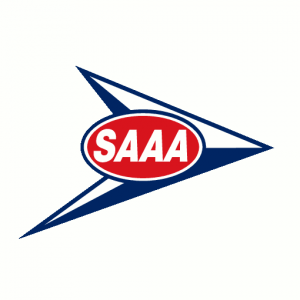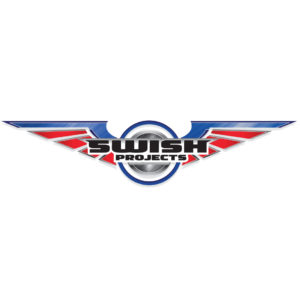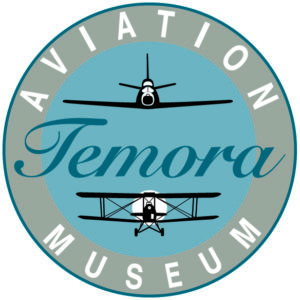 SCHOOLS UPDATE 
Below is the latest update as of 18th June 2021
The empennage and right wing from our Queenland schools (Burnside State High School and Mueller College) have arrived in Narromine.  SAAA Member and Mentor Graeme Lean went above and beyond for us and drove the components to Narromine.  Thank you so much Graeme.  Here are some photo's of the journey.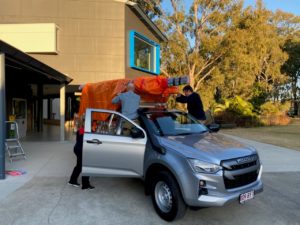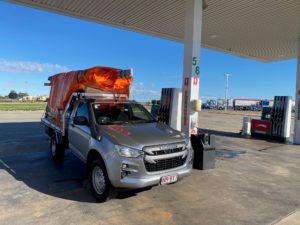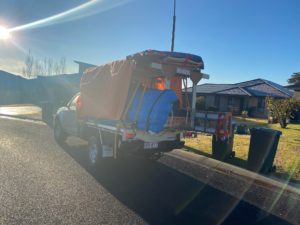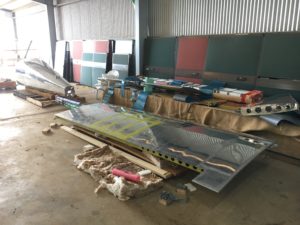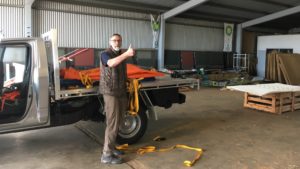 We now await the left wing from Victoria to make it's journey.  Once the fuselage is complete in Perth (should be soon), we can get everything painted and the plane assembled.
_________________________________________________________
VICTORIA
_________________________________________________________
LYNDALE SECONDARY COLLEGE – Update received from Brian Ham & Ray Taylor (Project Managers)
The wing is now complete.  It will be on display at Avalon 2021 before going to Narromine.
If you have missed an update click here
_________________________________________________________
QUEENSLAND
_________________________________________________________
BURNSIDE STATE HIGH SCHOOL – Update received from mentor John Butler
This is my final report of the Sport Aircraft Association (SAAA) of Australia Youth Aircraft Build and Fly Program at the Burnside State High School (SHS).
I am not sure if all of the members of the SAAA – or all of the teachers and students at Burnside SHS – understand what this program has meant for the participants in the program. I know that from my perspective, it has given me -personally – a great deal of pleasure to be involved with the program and observe how the program has changed the participating students, how it has developed skills and abilities that they didn't have at the beginning. I have observed how young people have commenced the program unsure of their own abilities to embark on such a journey, let alone build their abilities to enable completion as a team. It has really been a remarkable journey of development and achievement for them all.
Throughout this journey, students have not just participated as individuals, but as active and effective members of small teams – part of the larger team – to bring the aircraft kit pieces to life as a major component of a real aircraft. They functioned not just as team members, but as team leaders, leading their colleagues in their creative journey to solve problems, apply intelligence and innovation to tasks, research solutions to problems that arose and supply energy and enthusiasm – and a sense of humour – to crafting and creating the end result. It has been a memorable experience for the mentors and the students.
The final task for our group was to assemble all of the built components into the final product – the Empennage, vertical stabiliser and rudder and horizontal stabiliser and servo tab. This activity was completed for a day when the media was invited to attend to place on record the achievements of the participants, their teacher and their school. I believe that the students and their teacher have done their school proud in the way they have approached the program and the final result.
The components will now be loaded on SAAA member Graeme Lean's vehicle for the trip to Narromine for assembly into a completed aircraft. The wing from Meuller College at Rothwell will be included in the load to ease the burden of transport. As part of the organising the loading of the wing, I had the pleasure of meeting the students that participated in that build also. They are a bright and happy group who are proud of their accomplishments and are embarking on building a Zenith 601HD kit.
As I mentioned earlier, it has been a great pleasure to be involved in this program. SAAA members and it's leaders should be very pleased with the results of the program and the benefits that will accrue to the young participants for many years to come.
John Butler
If you have missed an update click here
MUELLER COLLEGE – Update received from Melissa Chambers (Teacher)
Mueller College have completed the wing and it is now in Narromine.
Click here to view the video of TC Stephen Kennedy looking over the wing.
They have exciting news, continue reading below…………………..
It's here! Okay, what is it?…THE GRAND ANNOUNCEMENT…Aerospace teacher Mr Jon Collins from Atherton SHS, has kindly donated a complete Zenith Zodiac 601HD kit aircraft to Mueller Aviation. This aircraft was donated to Atherton SHS from a gentleman named Don Burnell from Cairns in May 2020. Sadly, Don passed away and the Atherton crew were bequeathed the largely unfinished kit. Unfortunately, due to other projects that had higher priority, they were unable to start on the Zodiac, hence teacher Jon's gracious gift to Mueller College. Opening the boxes was simply amazing. On top of millions of bits of Zodiac, there was a plethora of brand-new tools and even some instruments. There is office equipment and a brand new vacuum cleaner (maybe its a ducted-fan powered aircraft…). We unpacked wheels (its a tail-dragger!), Garmin avionics, lot of metal, and a radiator. So good. I am humbled by Jon and Don Burnell's generosity. Special thanks also to SAAA chapter 34 who provided the tools and instruments. The great adventure has begun…
Zenith Zodiac CH601 HD Build Log #1. First look at the kit by the mentors…we think they are happy with it. First task as always – an inventory of parts. The students were split into teams to undertake this task; wings, fuselage, tail, control to name a few. A lot was achieved and most parts accounted for to date. Still more inventory to be done next week as well as organisation and storage of parts. Big plug to TA Melissa who is organising the paperwork, re-typing the inventory into a searchable Excel spreadsheet, and generally bringing sanity to a very busy work environment. Oh, thanks once again to the mentors for taking the students through this, and to the generous sponsor of the kit – Mr Jon Collins from Atherton SHS and the late Mr Don Burnell.
It is great to see our mentors from the RV12 build continuing to support the new project – true SAAA spirit!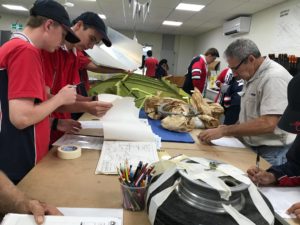 If you have missed an update click here
_________________________________________________________
WESTERN AUSTRALIA
_________________________________________________________
ASHDALE SECONDARY SCHOOL – Update from Lainey Bradley National Co-ordinator SAAA Build Project
The Ashdale students have been working very hard on the fuselage and it is coming along nicely.  Extended build hours have been granted for the rest of term 2.    We have had a helping hand with a few members from Chapter 24 (Jandakot) who teamed up a couple of Saturday's ago to give a helping hand to the Fuselage build.  They spent the whole day building (and had a great time doing it!).  Here is how far they moved the build forward.  It looks great.  A  big thank you to Peter Austin, John Browne, Richard Ewing, Glen Fuller, Andy George, Bill Keehner, Chris McGough and Malcolm Vivian.
Have a look at this video package that the school has put together.  Click here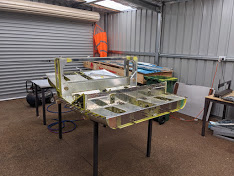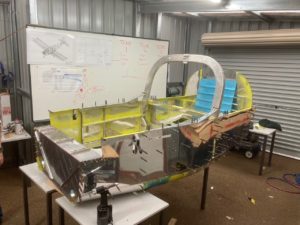 If you have missed an update click here
_________________________________________________________
NEW SOUTH WALES
_________________________________________________________
NARROMINE HIGH SCHOOL – Update from John MacCallum – Project Manager
Narromine High is progressing well with construction of the Horizontal Stabiliser of our RV7. The rear spar has been matched drilled and we are now working on the front Spar.
On Friday 30th April, Andrew Greste and John took their planes over to the SAAA office at Narromine Airport for a show and tell session with the Students.
If you have missed an update click here
TEMORA HIGH SCHOOL – RV12 EMPENNAGE PROJECT
The Temora students have started work on their kits to learn how to use the tools needed to build the empennage.  They are enthusiastic and eager.  We are looking forward to seeing some photo's of their project before they start the empennage.
If you have missed an update click here