THANK YOU TO OUR GENEROUS SPONSORS
SCHOOLS UPDATE 
All of the schools have returned from summer break and the build has recommenced.  Below is the latest update as of 8th March 2021
_________________________________________________________
VICTORIA
_________________________________________________________
LYNDALE SECONDARY COLLEGE – Update received from Brian Ham & Ray Taylor (Project Managers)
2021 started with the news that the Co – ordinating teacher, Sabine Joseph had left and taken up a position at another college.  We contacted the School Principal Pam Robinson and had a meeting.  This year we warmly welcome three new teachers on board.
Just like WA, Victoria commenced a five-day lockdown on Friday Feb 12, and we were not able to start back in the workshop until 2/03/2021.
We have commenced the build again and  we have the Flaperon ready for closing and will arrange a TC visit for next week and all the ribs and stub spars etc are installed on the wing ready for skins.
On another note, we have had a RV12 trailer donated to us by SAAA member John Allen.  Our heartfelt thanks go to John for this very generous donation and will assist with the transportation of the RV12 to Narromine.  The trailer will be stored at Lyndale in the next few weeks.
We have yet to find a friendly spray-painting company, but the school and the local community are working on it
Now that we are back on track, we are confident of making good progress.
If you have missed an update click here
_________________________________________________________
QUEENSLAND
_________________________________________________________
BURNSIDE STATE HIGH SCHOOL – Update received from mentor John Butler
This is a brief report on the second week back to building for 2021. The project is nearing completion for us, so it's important to capture as much of the project as possible in the short time that we have left.
Our components are really starting to look like a real aircraft! What started out as a "box of parts" is now starting to resemble an aircraft, with empennage, vertical stabiliser and horizontal stabiliser all coming together in recognisable components.
The students are starting to get very excited as they work diligently on the project. There is more competition to do the "interesting" things, like placing skins on structures, placing and pulling rivets and attaching fairings. The excitement in the room is palpable. Students are volunteering to do even the menial tasks (there are still parts to be de-burred and treated with anti-corrosion material) to progress the project overall. It seems that all students think that we should have more time per session to "get the job done".
We still have some way to go, with some of the detail work to be completed, but the excitement is building!
It is an absolute pleasure to be involved with this project and see the positive benefits that it bestows on our participants.
Lainey is arranging a meeting in order that we can have contact with other groups building their part of the aircraft. That would be the "icing on the cake" for an activity that is unique and exciting in a normal academic year.
If you have missed an update click here
MUELLER COLLEGE – Update received from Melissa Chambers (Teacher)
Mueller College have completed the wing with the exception of priming and painting the external surfaces.
The team are moving on to a new project and we are looking forward to hearing what they are going to be doing.  Keep checking back with us and we will let you know as soon as we do!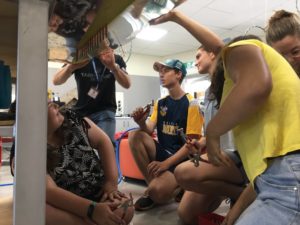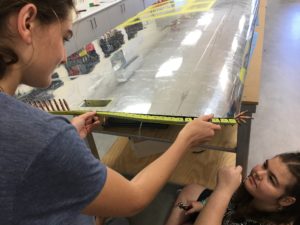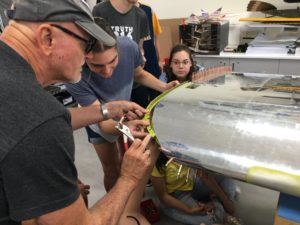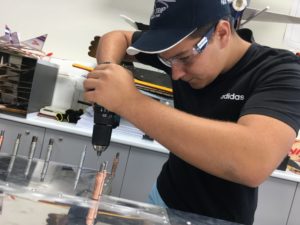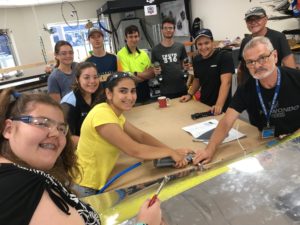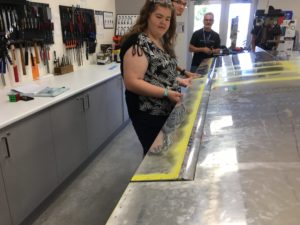 If you have missed an update click here
_________________________________________________________
WESTERN AUSTRALIA
_________________________________________________________
ASHDALE SECONDARY SCHOOL – Update from Lainey Bradley National Co-ordinator SAAA Build Project
We have returned to a new set of students who are all eager to be a part of the plane build.  Our progress was interrupted by a COVID-19 lockdown.   Although they are raw beginners; they are showing great promise in terms of enthusiasm. Worked hours is limited at the moment with extended hours proposed for later in March.
If you have missed an update click here
_________________________________________________________
NEW SOUTH WALES
_________________________________________________________
NARROMINE HIGH SCHOOL – Update from John MacCallum – Project Manager
When we finished off last year most of the Students that were involved left to gain Apprenticeships in the local area.  The boys all thanked me for our efforts and their involvement and so I wished them all well for their future.
This year we have a new group of 7, Year 10, students. 6 Boys and 1 girl.
I had a briefing session with the students last week and I have organised our first session to commence this week.
The RV 7 Empennage is at the School and some basic training with the students will be carried out with our practice kits before we launch into the real thing.
If you have missed an update click here
TEMORA HIGH SCHOOL – RV12 EMPENNAGE PROJECT
The empennage arrived in the new year and was delivered to the school in February.
Our amazing project managers  Mike Holloway and Paul O'Connor, along with Sam Richards have visited the school and had a meeting with the teachers involved with the project and things are moving forward.  Inventory is now happening, and plans are being reviewed and planning is underway on how the project will run.
If you have missed an update click here